CINSA 2016 -New Call for Proposals Extended Deadline February 29, 2016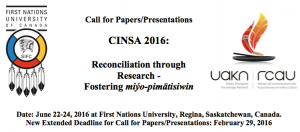 New Extended Deadline for Call for Papers/Presentations: February 29, 2016
The 2016 Canadian Indigenous/Native Studies Association (CINSA) Conference will be co-hosted by the Urban Aboriginal Knowledge Network (UAKN) and First Nations University of Canada in Regina, Saskatchewan, Canada.
The conference organizers seek original works examining the themes of Reconciliation through Research – Fostering miýo-pimātisiwin in the city including: community driven research, health and well-being, community development, justice, and education. Other topics or themes will be considered. The organizing committee invites scholars and community members to submit proposals, for: individual papers, panel sessions, posters, roundtables, workshops, film screenings, and performances.
All proposals (between 200 – 250 words) should be accompanied by a brief CV (or a brief statement of relevant experience in relation to your proposal) and be submitted to the Organizing Committee (cinsa@nafc.ca) by the new extended deadline: February 29, 2016.
The Canadian Indigenous/Native Studies Association (CINSA) is a community of scholars committed to Indigenous/Native Studies as a discipline that is informed by, and respectful of, Indigenous intellectual traditions. Among its objects is the continued development of Aboriginal studies intellectualism through the dissemination and discussion of research as well as facilitation of communication between students, scholars, elders, and community members.
The First Nations University of Canada, established in 1976 has been pursuing its mission to enhance the quality of life, and to preserve, protect and interpret the history, language, culture and artistic heritage of First Nations for the last forty years.
The Urban Aboriginal Knowledge Network is a network of urban Aboriginal communities, policy makers and academics, engaging in community driven research with the goal of contribution to a better quality of life for urban Aboriginal people. The UAKN is primarily funded by a SSHRC partnership grant with over 50 community driven projects.
PDF: CINSA 2016- CALL FOR PAPERS_New Feb 29, 2016 Deadline

Website: www.uakn.org/cinsa
Follow CINSA 2016 on Facebook!