The UAKN Atlantic operates out of the Faculty of Education at UNB Fredericton, New Brunswick. Dr. Verlé Harrop is the Director of the UAKN Atlantic and reports to an Executive Committee representative of the four Atlantic Provinces. Member composition of the Executive Committee follows SSHRC guidelines and includes urban Aboriginal community members and groups, elders, emerging Aboriginal scholars, academics, practitioners and government representatives. Working by consensus, the 13-member committee sets UAKN Atlantic's research priorities and ensures that the community-driven research they support meets the needs and aspirations of urban Aboriginal peoples living across Atlantic Canada. To date, the UAKN Atlantic has funded 28 research projects.
Director
Dr. Verlé Harrop
University of New Brunswick
Room 150, Marshall d'Avray Hall, 10 MacKay Drive, UNB Campus
Phone #: 506 453 4550
Email: vharrop@gmail.com
Executive Members
Patsy McKinney, Executive Director, Under One Sky Head Start, NB
Carla Gregan-Burns, Regional Director, Social Development, Government of New Brunswick, NB
Josephine Savarese, Associate Professor, STU Faculty of Criminology, NB
Amanda LeBlanc, President and Chief, NB Aboriginal People's Council, NB
Pamela Glode-Desrochers, Executive Director, Mi'kmaw Native Friendship Centre, NS
Jula Hughes, Associate Professor, UNB Faculty of Law, NB
Christopher Sheppard, Executive Director, St. John's Native Friendship Centre, NL
Amy Hudson, Executive Assistant to the President, NunatuKavut, Labrador
Neil Forbes, Community Member and Director of Education, Lennox First Nation
Lisa Cooper, President and Chief, PEI Native Council, PEI
Lisa Jodoin, Film Maker/PhD Candidate, UNB, NB
Miigam'agan, Elder STU, NB
Imelda Perley, Elder UNB, NB
Member Emeritus Steven Foulds, Lawyer, Steven Foulds Law Office, NB
Verlé Harrop, Director UAKN Atlantic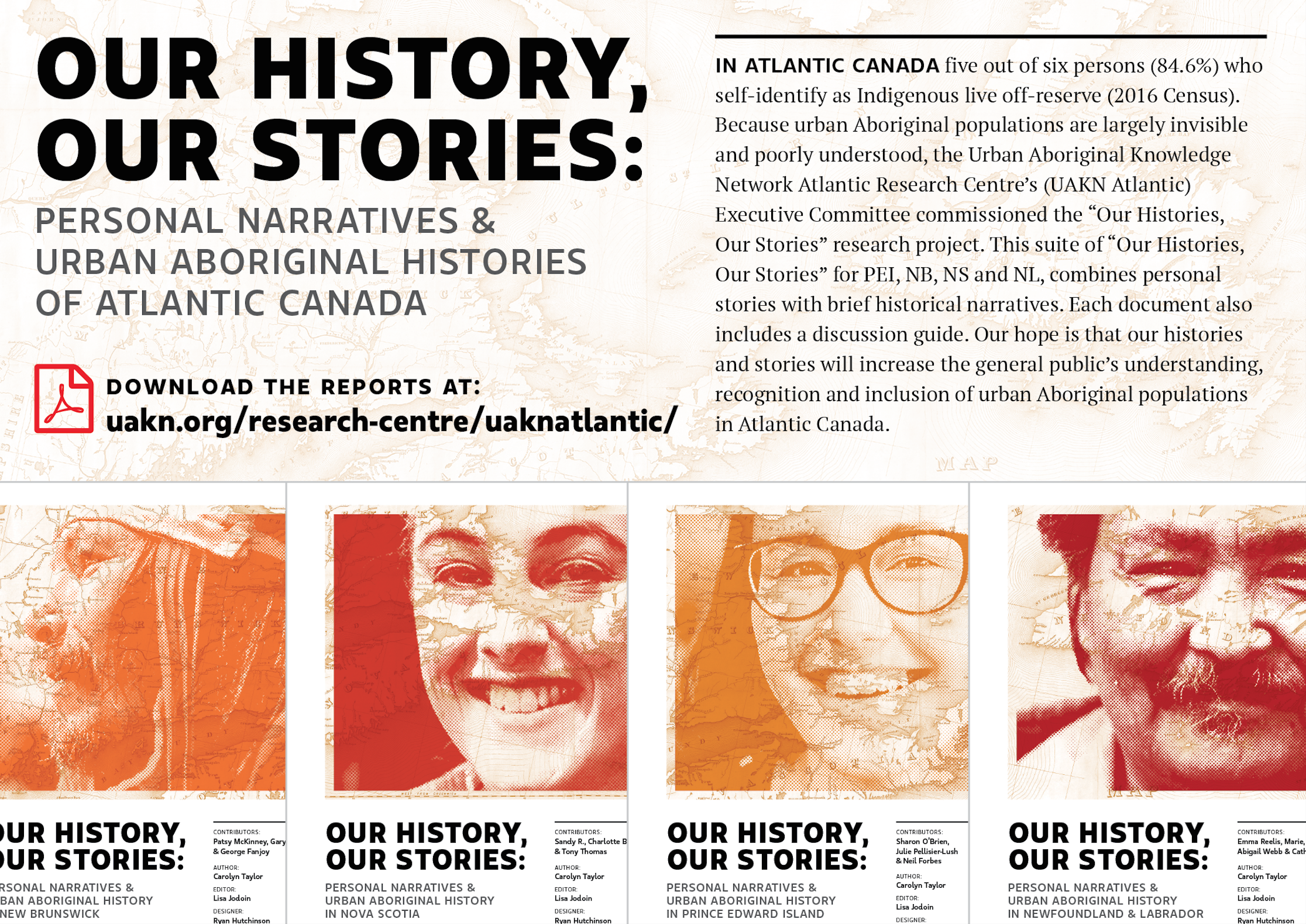 UAKN Atlantic Launches Final Reports for the Our History, Our Stories: Personal Narratives & Urban Aboriginal Histories Of Atlantic Canada
Download the Reports here
UAKN Atlantic 2019 Events 
 February 19 – 21, 2019
For the Urban Aboriginal Knowledge Network Atlantic Research Centre's (UAKN Atlantic) Knowledge Mobilization Conference"Decolonizing the Academy Through Community-Driven Research" To be held at the Wu Centre, University of New Brunswick, Fredericton
The UAKN Atlantic is now entering its knowledge mobilization phase and would like to share its research findings from its 28 research projects with Atlantic Canada's broader Indigenous community, academic institutions and governments. In addition to increasing the visibility of urban Indigenous populations in Atlantic Canada, this conference is designed to familiarize participants with community-driven research methodologies – namely, what community-driven processes work and what institutional or colonial barriers are frequently encountered. Following presentations by community members grouped around: urban Indigenous children, their families and community; well-being; education; urban Indigenous identity and duty to consult — a guest panel comprised of community leaders, academics and government representatives, will dialogue with presenters on: 1. How the research findings can inform policy and practice in ways that support self-government and self-determination,and 2. What true reconciliation would look like.
Special guests and plenary speakers include:
David Newhouse, Director and Professor, Chanie Wenjack School of Indigenous Studies, Trent University, and Principal Investigator for the UAKN;
Christopher Sheppard, President, National Association of Friendship Centres and Executive Director First Light St. John's Friendship Centre;
Joceyln Formsma, Executive Director, National Association of Friendship Centres;
Miigam'agan, Elder St. Thomas University;
Sylvia Moore, Professor, Aboriginal Teacher Education Program, Labrador Institute, MUN and author of "Trickster Chases the Tale of Education"; and
Kelly Benning, Grand Prairie Regional College Friendship Centre, Alberta.
There will be on-site exhibitions of: Halifax Mi'kmaw Native Friendship Centre's "This is what I wish you knew" art panels and videos; Films "Tracing Blood" and "Feast of Forgiveness"; digital stories from Newfoundland and Labrador's "Re-Storying NunataKavut" and "Women's Narratives"research projects; and featured videos from Atlantic Canada's contribution to the National Centre for Collaboration in Indigenous Education's (NCCIE) virtual library.
This conference will be of interest to community members, educators, researchers and all levels of government. ContinuingEducation Credits will be arranged with the NB Medical and Law Societies, NBASW, MMBSW, nursing and education associations.
For additional information please contact:
Verlé Harrop, PhD
Director, Urban Aboriginal Knowledge Network Atlantic Research Centre (UAKN Atlantic
Co-Lead National Centre for Collaboration in Indigenous Education (NCCIE), Atlantic Region
C: 506 259 1790
E: vharrop@gmail.com